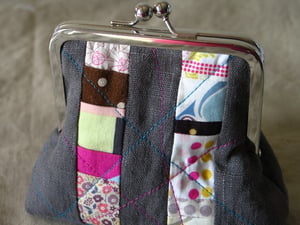 $

25.00
I'm obsessed with frame purses. I think you can find three or four of my own around the apartment. they're roomy, chic, and can really go with anything. I'll totally admit that I made one of these to hold my laundry money. it's so much cuter on my dresser than a plastic cup. you could use it as a coin purse, a notion bag, a makeup case, or a fun wallet.
I used my favorite grey linen for the shell with strips of "coins" made up of different cottons (including cotton lawn, cotton voile, and cotton/linen blends). the lining is 100% cotton. there are pink and blue random lines quilting on the front and back of the clutch.
NOTE: one side of frame does not completely close. does not affect functionality of bag, but I have priced it accordingly.
materials:
shell: 100% belgian linen
lining: 100% cotton
nickel-free frame
approx dimensions:
4.5" across top
6" across widest point
5" tall
1.75" deep